Dorothy Chandler Pavilion
135 N Grand Avenue
Los Angeles CA, 90012
LA Opera is located at the Dorothy Chandler Pavilion and part of The Music Center of Los Angeles County.
Parking Information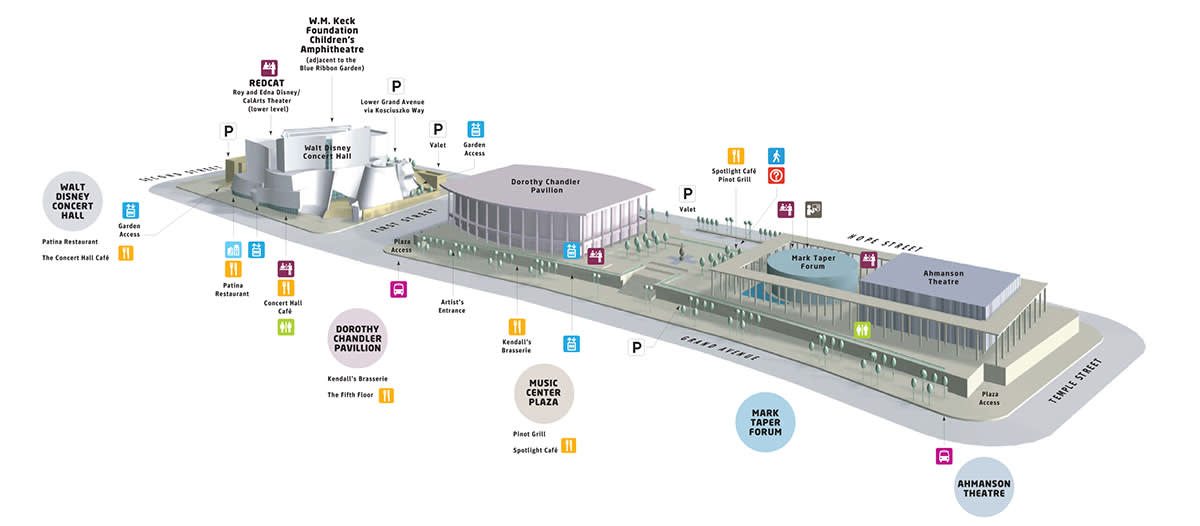 Ticket holders parking a vehicle are encouraged to arrive at least 45 minutes before curtain. Parking is available in The Music Center Garage and the Walt Disney Concert Hall. The Music Center garage entrance is located off Grand Ave between Temple Street and 1st Street, across from Grand Park.
For information on parking rates, valet and other options, click "Read More."
Self Parking -- $10
Due upon entry
This rate is available beginning at 4:30pm for evening performances, 2 hours before curtain for weekday matinees and all day on weekends.
Valet Parking -- $23
Valet services begin 2 hours prior to performances.
Entrance to valet is located on Hope Street between First and Temple Street.
For vehicles displaying valid, state-issued disability parking placards, valet rate is $10
Handicap accessible Parking
Accessible parking spaces for vehicles displaying valid, state-issued disability parking placards or license plates are available in The Music Center Garage on levels two and four, check with a parking attendant for directions. Valet parking is also available at a special rate of $10.
Box Office Parking
Validation is provided for up to 30 min of free parking when visiting for Box Office services.
For Weekdays before 4:30pm
Proceed to one of the parking spaces marked for box office parking. Request a validation from the box office attendant to exit the garage without charge for up to 30 minutes.
For Evenings, Weekends and Event Hours
Upon entry obtain a 30-minute box office validation from the parking attendant.
Additional Parking Option
Walt Disney Concert Hall -- Self parking $10
Entrances are available on both 2nd Street and Lower Grand Ave.
Ride Share
Drop-off and Pick-up for Ride Share is located on the Hope Street side of Dorothy Chandler Pavilion.

Use address:
218 N Hope Street, Los Angeles
Metrolink supports many events at The Music Center with transfers for free onto Metro rail. Use the train to attend weekend matinee performances by taking the Antelope Valley, San Bernardino, Orange County and 91/Perris Valley lines to L.A. Union Station. Transfer onto the Metro B (Red) or D (Purple) Line for one stop to exit at Civic Center/Grand Park Station. Please consult return train times when planning your trip.
For information, please call 800-371-5465, or see Metrolink schedules at www.metrolinktrains.com and @Metrolink on Facebook and Twitter.
Go Metro to LA Opera
Skip traffic and take the Metro Red or Purple line to the Dorothy Chandler Pavilion. Its a quick block away from the Civic Center/Grand Park Station.