It's no secret that Frida Kahlo has transcended the art world; she enjoys cult status in feminist circles, pop culture, and the general zeitgeist, not only for her art, but also for her strength, independence and willingness to challenge norms. One way she challenged societal expectations was through the way she dressed, and we don't just mean her famous unibrow. Frida's fashion sense was unlike any other 20th-century artist because of how openly she embraced her Mexican identity through her clothing, most notably by wearing a Tehuana dress.
Many Westerners may have first seen the Tehuana style on Frida, but the Tehuana far predates her, and its cultural significance within Mexico cannot be understated. With the LA premiere of El último sueño de Frida y Diego, we couldn't unglue our eyes from costume designer Eloise Kazan's beautiful renderings of the Tehuana dresses featured in the opera. We wanted to take the time to explore the history of the Tehuana dress and share some of the stunning designs that audiences will see on stage.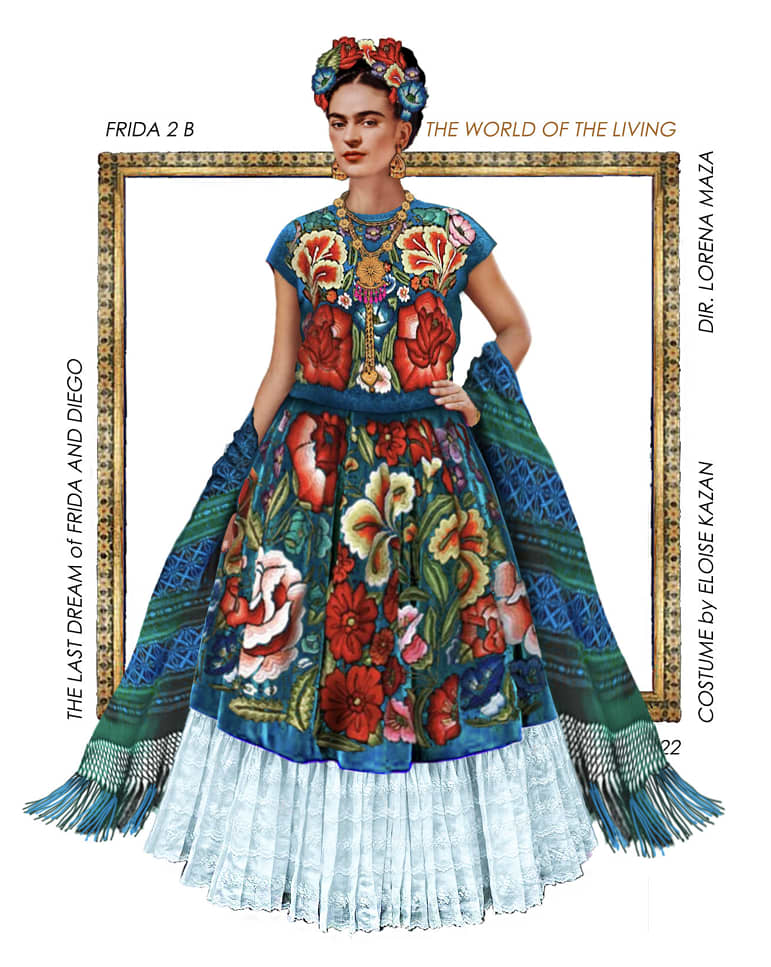 The Tehuana dress originated among indigenous Zapotec women on the Isthmus of Tehuantepec, a stretch of land between the states of Oaxaca and Veracruz, bordered by the Atlantic Gulf of Mexico and the Pacific Ocean. The traditional Zapotec dress survives to this day, with only minimal evolutions made over time, making it a living piece of cultural heritage. It also took on a new meaning on a national scale during the Mexican Revolution. With popular uprisings targeting the racial caste system and emphasizing Mexico's indigenous roots, the country was searching for a symbol that could speak to both the diversity and unity of the country. They found it in the Tehuana dress, which became an emblem of national and cultural identity.
A key identifying feature of the Tehuana dress is the floral arrangement. A common Tehuana dress will see the wearer with a floral headdress, a floral huipil (embroidered blouse), and a long floral skirt. Donning a Tehuana dress is much like arranging a flower bouquet for the body; the variety of colors and patterns afforded to flowers translates beautifully to clothing.
With its cultural significance and bold designs, you can see why the dress was a natural fit for Frida, who outwardly embraced her Mexican heritage (specifically, her Oaxacan mother's roots) in all aspects of her life. As a public anti-colonial figure, her choice was also very much about rejecting Eurocentricity. Frida would weave Mexican culture into her other wardrobe pieces and would even include Chinese textiles and Guatemalan sashes and coats with her Tehuana dresses after being exposed to them during trips to San Francisco.
Beyond the cultural significance, there was a practical reason Frida wore this dress too. Frida was born with spina bifida, a birth defect that impairs spinal development. At the age of six, a brutal case of polio left her right leg deformed and shorter than her left. The same leg was then fractured (among other serious injuries) in a bus accident when she was scarcely 18. By that stage in her life, Frida had already experienced significant prejudice and ignorance, and wanted people to see her, not her disability. The Tehuana dress hid her right leg and back brace, and the headpiece drew attention to her face rather than her body. Though she suffered chronic pain all her life, she was able to stand tall in a Tehuana.
When bringing these dresses to stage, Eloise Kazan's priority was keeping the cultural integrity of the Tehuana while also making the costumes prominent enough for the audience no matter where they were sitting. In the designs shown here, you can see how she was able to play with color to accomplish her goals, having floral embroidery contrasting with the background, or using various shades of one palette. Keep a lookout for Kazan's artistry when you join us for El último sueño de Frida y Diego. Her eye-catching Tehuanas capture the vibrancy and strength that are unequivocally Frida.