When thinking about opera, we generally hail the composer as the mastermind behind the whole piece. It makes sense since the first thing that pops into our heads is the music. And while music is the most essential element of what makes opera, it's not the only part; we wouldn't have an opera without a story. The greatest composers of all time also worked with the greatest librettists of all time to produce some classic works. One of these iconic duos was one of opera's all-time favorites, Mozart, and his greatest collaborator, the poet and librettist Lorenzo da Ponte. We wanted to look at how this duo got started and share some of the interesting backstories behind the three operas they created together.
Mozart and Da Ponte's three operas are all considered to be masterpieces and they have stayed in the repertoire centuries after their debuts. Surprisingly, Da Ponte wasn't keen on Mozart the first time they met in 1783. And yet Mozart was a huge fan of Da Ponte, who was the official poet to the Habsburg's court theater and a librettist for the court opera composer, Antonio Salieri. Mozart was just making a name for himself after the premiere of The Abduction from the Seraglio a year earlier. He was the new kid on the block and when he approached Da Ponte about working together, Da Ponte turned him down. Mozart didn't let the rejection get to him too much, however, and he would continue trying to work with Da Ponte. That opportunity came in 1786 with their opera The Marriage of Figaro.
The Marriage of Figaro
Based on the second play of the Figaro trilogy by Pierre Beaumarchais, The Marriage of Figaro seemed unlikely to get an operatic adaptation. In 1782, The Barber of Seville, the first play in the Figaro trilogy, had been successfully adapted as an opera by Giovanni Paisiello (which is not to be confused with Rossini's version, which would come 34 years later). Naturally, there was interest in adapting the next play in the trilogy, The Marriage of Figaro, but the play had been banned in Vienna (where Mozart and Da Ponte lived) by Emperor Joseph II due to its politically sensitive focus on class tension and privileges. Nonetheless, Mozart convinced Da Ponte to collab with him on an operatic adaptation of the play. Da Ponte appealed directly to the emperor, who approved it on the condition that the controversial elements be removed. Da Ponte would remove all political references in the play, most notably in Figaro's final monologue, originally a tirade against aristocratic privilege, which was replaced by an aria about his bride's apparent unfaithfulness. Without these changes, we may never have seen an operatic The Marriage of Figaro. And who knows if Da Ponte and Mozart would have collaborated again if they hadn't been able to pull this tricky feat off.
Don Giovanni
While The Marriage of Figaro was not a notable hit in Vienna, the opera was a smash hit in Prague and the Habsburg Empire a year later. Thanks to this success, Mozart was commissioned to write another opera for Prague. Mozart would team up with Da Ponte again and Da Ponte chose to base the libretto off the legend of Don Juan. Da Ponte based his libretto on Giovanni Bertati's earlier one-act opera Don Giovanni Tenorio. By following the basic structure of Bertati's opera and then enriching it with details from the first published version of the legend, Tirso de Molina's original play The Trickster of Seville and the Stone Guest, Da Ponte crafted the Don Giovanni story that we know today and influenced all other Don Juan retellings after. Combine this iconic retelling with Mozart's genius score and you can see why Don Giovanni is an opera classic.
Così fan tutte
The third and last of Da Ponte's and Mozart's collaborations—a comedy about two men testing their sweethearts' fidelity—has a rather interesting story behind it. For one, this is the first completely original story Da Ponte wrote for Mozart, showing us that he was more than just an adept adaptor of other writers' stories. The origins of the opera are far more mysterious than The Marriage of Figaro's or Don Giovanni's. Some say the opera was suggested by Emperor Joseph II, though there is nothing to support that claim. There is evidence that shows the libretto was originally intended for Salieri (viola, violin and cello music he wrote for the opera was found) though the reason he dropped it remains unknown. Mozart took Salieri's place and set Da Ponte's libretto to music, creating both a classic piece of opera and a delightful conclusion to his immortal collaboration with Da Ponte.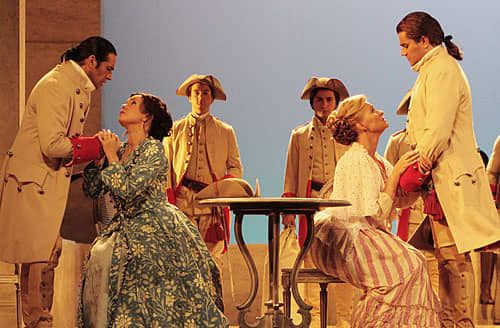 We hope that going through Da Ponte and Mozart's history helped show the importance of a librettist in opera. The Da Ponte and Mozart team-up is an especially impressive one as they didn't just strike lightning once or twice, but three times. While Mozart composed several other great operas, these three are some of his most popular, with only The Magic Flute rivaling them in importance. It goes to show the power of collaboration that goes into opera, because when you get a world-class composer and a world-class librettist working together, they're bound to create some truly iconic and important pieces of art.