Rhiannon Giddens is an American musician, singer, and songwriter known for her work and eclectic touch to folk, country and roots music. She was born on February 21, 1977, in Greensboro, North Carolina. In 2000, Giddens graduated from Oberlin College, where she studied opera.
Giddens co-founded the Carolina Chocolate Drops, a traditional African-American string band, in 2005. She played banjo, fiddle, and sang vocals. They won a Grammy Award for Best Traditional Folk Album in 2011 for their album "Genuine Negro Jig."
After leaving the Carolina Chocolate Drops in 2013, Giddens pursued a solo career, releasing her debut album "Tomorrow Is My Turn" in 2015. She has since released several more albums, including "Freedom Highway" in 2017 and "They're Calling Me Home" in 2021.
In addition to her music career, Giddens is also an advocate for social justice and uses her platform to raise awareness about issues such as racial inequality and immigration reform. She has been awarded numerous honors for her work, including a MacArthur Genius Grant in 2017.
To add on to her many diverse career highlights, Giddens has performed for the Obamas at the White House and received an inaugural Legacy of Americana Award from Nashville's National Museum of African American History. Her critical acclaim includes in-depth profiles by CBS Sunday Morning, the New York Times, the New Yorker, and NPR's Fresh Air, among many others.
Giddens was featured in Ken Burns's Country Music series, which aired on PBS, where she spoke about the African American origins of country music. She is also a member of the band Our Native Daughters with three other black female banjo players, Leyla McCalla, Allison Russell, and Amythyst Kiah, and co-produced their debut album Songs of Our Native Daughters (2019), which tells stories of historic black womanhood and survival.
In October of last year, Giddens published her first book, Build a House based on the song "Build A House," which was composed for the 155th anniversary of Juneteenth and performed with renowned cellist Yo-Yo Ma.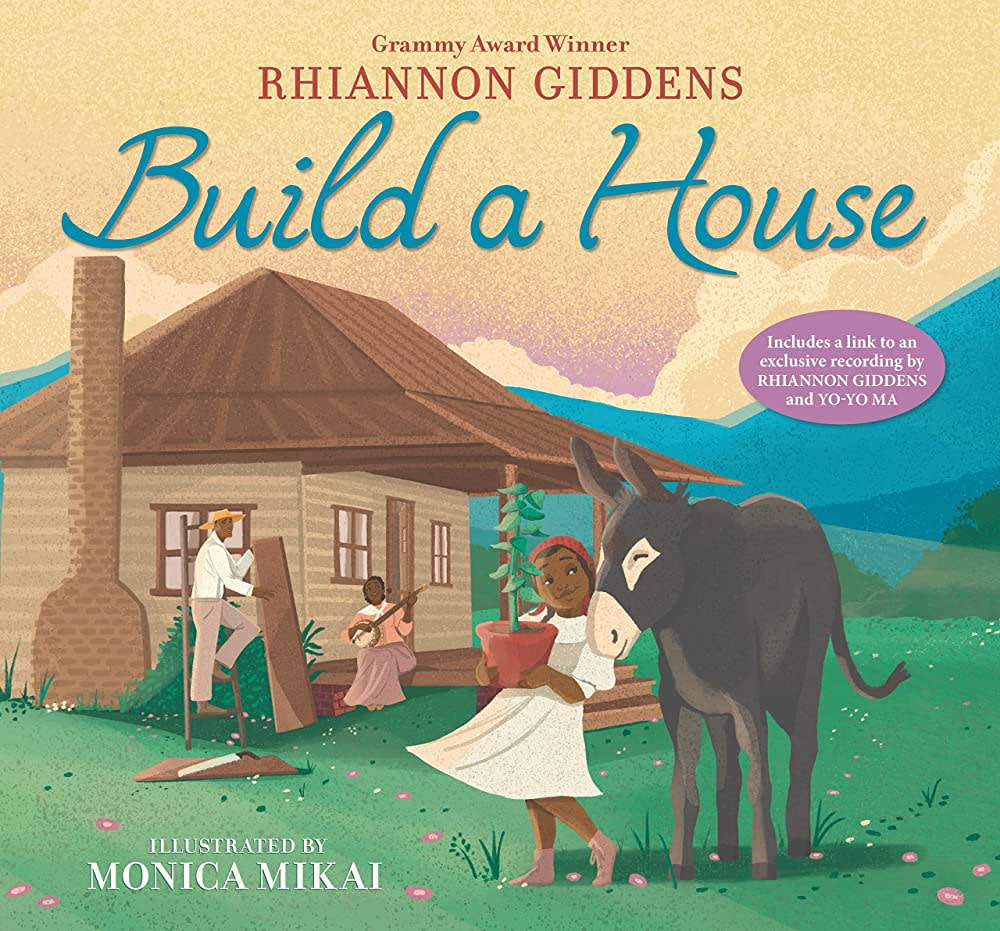 She wrote the libretto for her first original opera, Omar, and co-composed the score with two-time Emmy-nominated composer Michael Abels. The opera is based on the autobiography of the enslaved man Omar Ibn Said; It premiered at the Spoleto USA Festival in May and made its West Coast debut right here at LA Opera in October.
The cast of Omar during the last scene of the production (Photo: Cory Weaver)
Opera fans also know her as the host of Aria Code, the popular podcast that pulls back the curtain on some of the most famous arias in opera history, produced by WQXR in partnership with The Metropolitan Opera.
Giddens was named Artistic Director of Silkroad Ensemble in 2020 and is also curating a four-concert Perspectives series as part of Carnegie Hall's 2022/23 season.
She most recently won a Grammy Award for Best Folk Album for They're Calling Me Home, which she made with multi-instrumentalist Francesco Turrisi. Giddens is now a two-time winner and eight-time Grammy nominee for her work as a soloist and collaborator. (You go girl!)