Monya De joins LA Opera as a guest contributor for the month of October and in recognition of Hispanic Heritage Month.
________________________________________________________________________________________

We typically think of opera as a European art and vocation. Composers and singers raised in Vienna conservatories; French and Italian librettos. But, for this year's Hispanic Heritage Month, we're highlighting a few of the many illustrious South and Central American influences in opera, artists that we hope you will continue to read about and listen to long after the month's end. Note: While "Hispanic" refers to all Spanish-speaking people, we prefer to highlight artists from countries which historically have not been as strongly associated with opera.

Diego Luzuriaga

Ecuador, composer

Diego Luzuriaga composed the first Ecuadorean opera, Manuela y Bolivar (2006). The story centered on Manuela Saenz, a revolutionary who left her husband, started an affair and collaboration with Simon Bólivar, and derailed an attempt on his life.
Luzuriaga, born in 1955, was a 1992 Guggenheim fellow and studied at Columbia University, the École Normale de Musique in Paris, the Manhattan School of Music and the Quito National Conservatory. He has performed and recorded native Andean music as well.

Gloria Criscione Pineda
Paraguay, soprano



Pineda is known universally as "Gloria del Paraguay." A standout singer since childhood as well as a poet, she was appointed by the Pope as the representative for all Latin American artists. Pineda has toured Europe, the East, the United States, and Latin America with a repertoire spanning arias to Paraguayan folk music. She was also one of three sopranos to perform at the Manhattan Center in the "Sopranos Concert for World Peace." Pineda has released over 30 albums and starred in operettas at the Paraguayan Athenaeum.
"I love art, I love music, it is what makes me reach infinity. There is no vehicle that can achieve a total experience like art, and especially music." --Gloria Criscione Pineda

Gaston Rivero
Uruguay, tenor, producer, composer
Rivero, born in 1978, sings the role of Manrico opposite Anna Netrebko on the star-studded Deutsche Grammophon recording of Il Trovatore conducted by Daniel Barenboim. He is hailed as an excellent "spinto" tenor (literally "pushed," meaning a voice large enough to be heard above large musical climaxes). Taking notice, opera producers have already cast him as Radames in Aida and as Don Carlo, among his many other roles. He also sang in Baz Luhrmann's Broadway production of La Bohème.
Rivero sings next at Opernball Leipzig on October 30, 2021, with later appearances there in Tosca and Carmen.
Mario Chang and Maria José Morales
Guatemala, tenor and soprano, opera company founders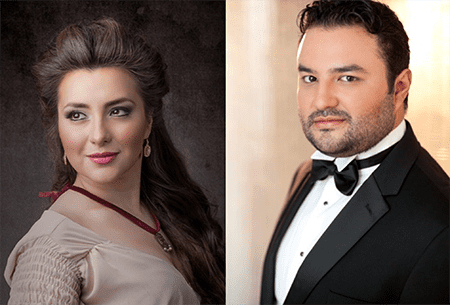 Mario Chang, a bel canto tenor, has sung the Duke of Mantua in Rigoletto, Rodolfo in La Bohème (including LA Opera's 2016 production), Alfredo in La Traviata, and his Metropolitan Opera roles include Nemorino in L'Elisir d'Amore. He studied at Juilliard, was a member of the Met's Young Artist Development Program, and won the 2004 Operalia competition at 28 years of age, with a performance Opera News called "sexy." Chang, whose grandfather was Chinese, once had to show his passport to a conductor who didn't believe a Chang could look Latino.
Wishing to raise the profile of Guatemala in the opera world, Chang and his wife Morales started the Querido Arte: Compañía de Ópera de Guatemala.
Morales has received several awards for women's leadership and has performed in operas and in musical galas worldwide, including duets with soprano Tamara Radjenovic in concert at Carnegie Hall, the Countess in The Marriage of Figaro at the National Opera Center, and roles including Gilda in Rigoletto, Mimì in La Bohème and Rosita in the zarzuela Luisa Fernanda. (Zarzuela is a Spanish-language form of musical theater with spoken lines interspersed with operatic singing for storytelling.)
Under Morales and Chang's leadership, Ópera de Guatemala has produced fully-staged productions of Rigoletto, La Bohème and L'Elisir d'Amore.
Ramon Vinay
Chile, tenor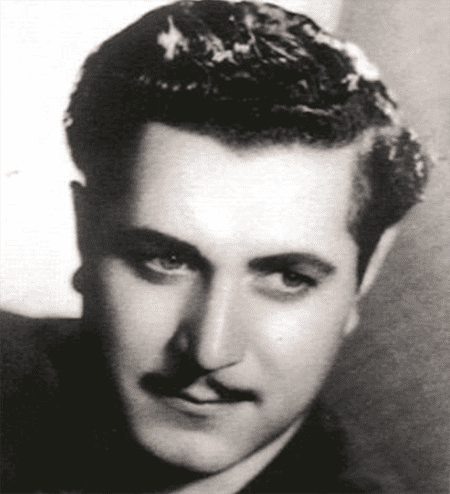 Vinay sang Otello in the very first telecast of an entire opera from the Metropolitan Opera in 1948. Tenor Carlo Bergonzi once said that Vinay, a dramatic tenor who died in 1996, had "the only" voice that was qualified to play Otello. He played the role at many top opera houses and is one of two singers to take on both Otello and the baritone role of Iago (late in his career), a feat that opera writers have compared to scaling Mount Everest.
Zoraida Salazar
Colombia, soprano, master teacher

Salazar is a winner of the Luciano Pavarotti competition and has performed worldwide. At the age of three, she won a radio singing contest and later moved to Milan to pursue musical studies. She was invited to sing at La Scala in 1982. She started the Asociación Lírica Zoraida Salazar- Dionisio Riol in order to teach young singers the European technique via a winter master class series.
Cenobio Paniagua
Mexico, composer, violinist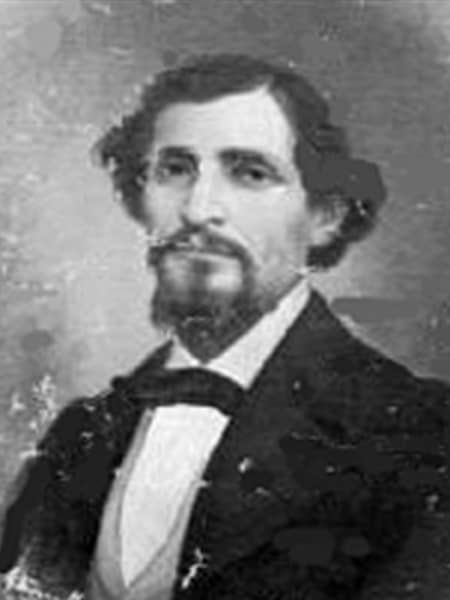 The history of opera in Mexico is rich, but it required some artists to go against the grain in the 19th century. Paniagua was the first Mexican composer to focus on opera, and composed several, including Catalina de Guisa, while also writing 70 masses. His protege, Melesio Morales, was a successful and popular opera composer who also wrote in Italian.
Gustavo Dudamel
Venezuela, conductor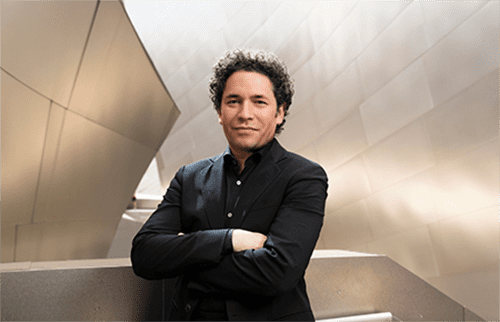 The boy who got up and conducted his afterschool orchestra when the teacher was late as a joke, only to be given a job as assistant conductor, has achieved worldwide fame leading the Los Angeles Philharmonic as music director since the age of 27. Dudamel's success and many awards, including a name-check in Time's 100 Most Influential People, has raised the profile of El Sistema, the shorthand for the Venezuelan classical music education system offered free to all schoolchildren. His Venezuelan mentor was José Antonio Abreu. Dudamel, who conducted La Bohème at LA Opera in 2016, was just named musical director of the Paris Opera, signaling a new direction and a brighter spotlight on the 352-year-old institution.
There are so many more individuals beyond this list who deserve recognition for their influence on and accomplishments in this art form. After all, opera doesn't end in one country or on one continent. Opera is global, and the industry should continue to reflect that even after Hispanic Heritage Month ends.
________________________________________________________________________________________

About the Author


Monya De is a writer in Los Angeles. Her work can be viewed at http://www.monyade.com.