3,100. That's the seating capacity of the Dorothy Chandler Pavilion.
17,505. That's how many Katy Perry fans can dance along with her at The Forum.
56,000. That's how many baseball fans can sing "take me out to the ballgame" at Dodger Stadium.
130,000. That's how many people we reach through our community engagement programming in one season. That's equivalent to 43 completely sold out opera performances at the DCP, or seven jam-packed concerts at The Forum, and more than double the number of fans present for Friday night fireworks and bobble head giveaways at Chavez Ravine.
Those 130,000 people range in age from toddlers to centenarians (most opera companies focus on school-aged kids). And they connect with opera in locations anywhere from South LA to the tip of the valley, and along the sandy beaches of Santa Monica straight through to the Inland Empire (that's pretty far beyond the walls of our own opera house). In classrooms, in libraries, in senior centers, in hospitals (doing much more than performing opera). We take our mission to make opera accessible to all seriously, and in doing this, we're not only connecting individuals to the magic and power of opera, we're connecting them to each other.
We recently announced a new name and logo that we think appropriately reflects this effort: LA Opera Connects.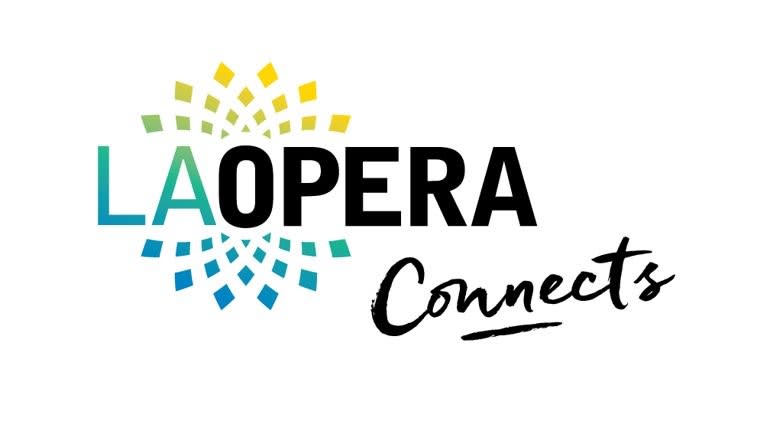 Twenty-nine powerful programs break down into four main pillars (Opera for All, Continuing Education, Get on Stage and Classroom Integration), and we're inspired in how each and every facet impacts people in a unique way.
Free (or very affordable) opera. It's as easy as that. We program opera for children on Saturday mornings when they can comfortably enjoy it while clapping along to the music or cuddled up with their parents. We take opera to the local libraries. We bring seniors and students to dress rehearsals. And through Community Circle, we give out lots of tickets. To seniors, to students to families, to non-profits.
Mindful Warrior is just one of many organizations that has participated in Community Circle. Since 2016, the Mindful Warrior Project has organized a group of veterans who attend main stage performances. This partnership has done so much more than simply open our opera house doors, it's given opera a whole new meaning.
"Sometimes I'm in my 'deep blue funk,' but knowing that I get to go to an opera makes me feel better," shared one veteran during a recent conversation. "When I'm sitting in my seat and the music starts I feel like a million bucks."
Learning is a life-long endeavor and we're here to help. You can take a deep-dive with an artist into the art form, or listen in on a casual conversation about an opera on our stage. We bring learning to the classroom, to the library, and even to the speakers in your car -- in English AND in Spanish.
Jocelyne R. recently noted to us just how grateful she and her mother were for one podcast about El Gato Montés in particular.
"My mom isn't from here and it's hard to find shows where she feels comfortable. I regret not being able to take her but when I found a podcast of it on Spotify by the LA Opera I was so glad we were able to listen to plot together in SPANISH! Whoever thought of that, thank you."
While opera is lovely to watch from a comfy velvet seat, there's nothing like being part of the action. We fling open our (stage) doors to the neighborhood providing multiple ways to help the community become part of our art. Every spring our music director, James Conlon, leads members of the public, alongside professionals, in a fully-staged opera that is free to all attendees at Cathedral our Lady of the Angels. Every summer, we lead a three-week intensive summer camp that not only teaches students performance techniques but focuses on teaching social justice and the real-life stories that inspired the opera they're performing. We even partner with the Mariachi Conservatory in Boyle Heights to bring the music of Zarzuela to the community.
"My favorite part about the Zarzuela project is the people," says Baritone Abdiel Gonzalez who is a Zarzuela Project teaching assistant. "They are a community of people who are not trained, in that they're not professionals, but they love being on stage and it brings such an energy and such a joy to everything that I do. They inspire me because they love doing it... it's becoming a family."
Video: Zarzuela Project
We also take our programs into the schools to teach students and even help teach the teachers. Opera for Educators enables educators to integrate opera and arts into their teaching style and lesson plans. This program also allows teachers to earn salary points and UCLA extensions credit too...a win-win situation. Teachers get to enjoy a quick break when our talented teaching artists visit elementary and secondary schools across the county to help local students learn about the art and stage their own opera.
One of the teaching artists who sings alongside the students, Cedric Berry, considers the school performances to be his most rewarding work.
"You're the first introduction to these students, to this art form," he notes. "It's very important for them to see people that look like them on stage, up close and work with them."
We couldn't agree more Cedric, and we're grateful to have such an amazing team of artists, teachers and staff who make all of this wonderful work happen.
Learn more about LA Opera Connects here or watch this video.