Congratulations to Keith Leonard, who was elected chair of LA Opera's Board of Directors in a unanimous vote on June 22. He's been a board member since 2015 and for the past year served as chair of the Executive Committee and vice chair of the Campaign Committee, working closely with both board and staff leadership.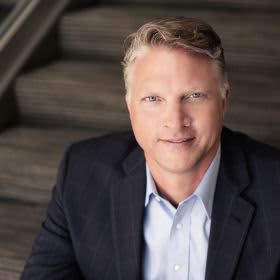 Keith Leonard, LA Opera's new board Chair.
It goes without saying that he has some mighty shoes to fill, following Marc Stern's astonishing two decades in that position. After 30 years of board service to date and 20 years as chair, Stern decided to step down and told the board of his decision in March.
"While working alongside Keith, it quickly became clear to me that he would make an outstanding chair and the board agreed," said Stern, who presided over more than 100 board meetings during his tenure. "He has the necessary business and management experience along with a deep commitment and keen love for the opera, which frankly makes him the perfect person to lead LA Opera as it reopens its doors to live performances at full capacity in September. It has been one of the great honors of my life to serve as chair, but now I'm looking forward to stepping back and supporting Keith."
In recognition of his outstanding service, the board named Stern to the newly created position of Honorary Chair. In that role, he will remain an active voting member on the board and will be closely engaged in decisions regarding company health, strategy and direction, as well as support for the company. The board also confirmed Carol Henry, a founding board member and board president from 2005 to 2012, to replace Leonard as Chair of the Executive Committee, a position she held previously.
An executive in the biotechnology industry, Leonard's lifelong passion for music and opera started when he was introduced to opera as a child by his father. After working several years in Europe with the Navy and later for Amgen, his passion for the art form deepened, and when he returned to Southern California in 2005 he became a patron and supporter of LA Opera. For more than a decade, Leonard and his wife Nanette have generously contributed to the company—starting with their gift to support the 2010 Ring cycle—and most recently as co-underwriters for the upcoming new production of The Marriage of Figaro. In addition to their support of performing arts, Keith and Nanette have provided significant leadership and financial support to philanthropies focused on healthcare delivery in the U.S. and abroad, veteran's care, urban poverty, education and the environment. They have lived and worked in Spain, Switzerland and Belgium.
"I am incredibly honored to be elected to serve as chair of LA Opera's board of directors, to work alongside this exceptionally gifted and dedicated group of directors and build upon the tremendous foundation of Marc Stern's exemplary years of leadership," said Leonard. "I deeply believe in opera's unique ability to bring artists and our community together through a shared musical and theatrical experience that moves and transforms us. LA Opera is one of our country's leading arts institutions, and I have been inspired by the visionary leadership of Christopher Koelsch and his plans for the future of the company. I look forward to partnering with him in LA Opera's mission to expand the reach of the much-needed restorative powers of this art form in our city—and beyond."
It's a big change that arrives at a big moment, as LA Opera prepares to open the 2021/22 season with fully staged productions in a theater filled with audience members. Addressing the transition, LA Opera President and CEO Christopher Koelsch said: "While running a nonprofit opera company is always a challenge, under Marc's outstanding and committed leadership we have built up our financial reserves, deepened community support and developed our board to a point where transitions like this are relatively seamless. We look forward to celebrating Marc and his incomparable legacy in grand style when we can reconvene in person. We are thrilled that Marc will remain active on the board and feel beyond lucky to welcome Keith as our new chair. We look forward to continuing to work with them both."