Composer Gabriela Lena Frank and librettist Nilo Cruz have been working together for the last 13 years. So, when this groundbreaking composer wanted to revisit her original 2016 work, Las cinco lunas de Lorca, for our new Digital Shorts series, she knew just the creative to call. We spoke with this accomplished creative team about their longstanding partnership and the inspiration behind the newly revised piece, The Five Moons of Lorca.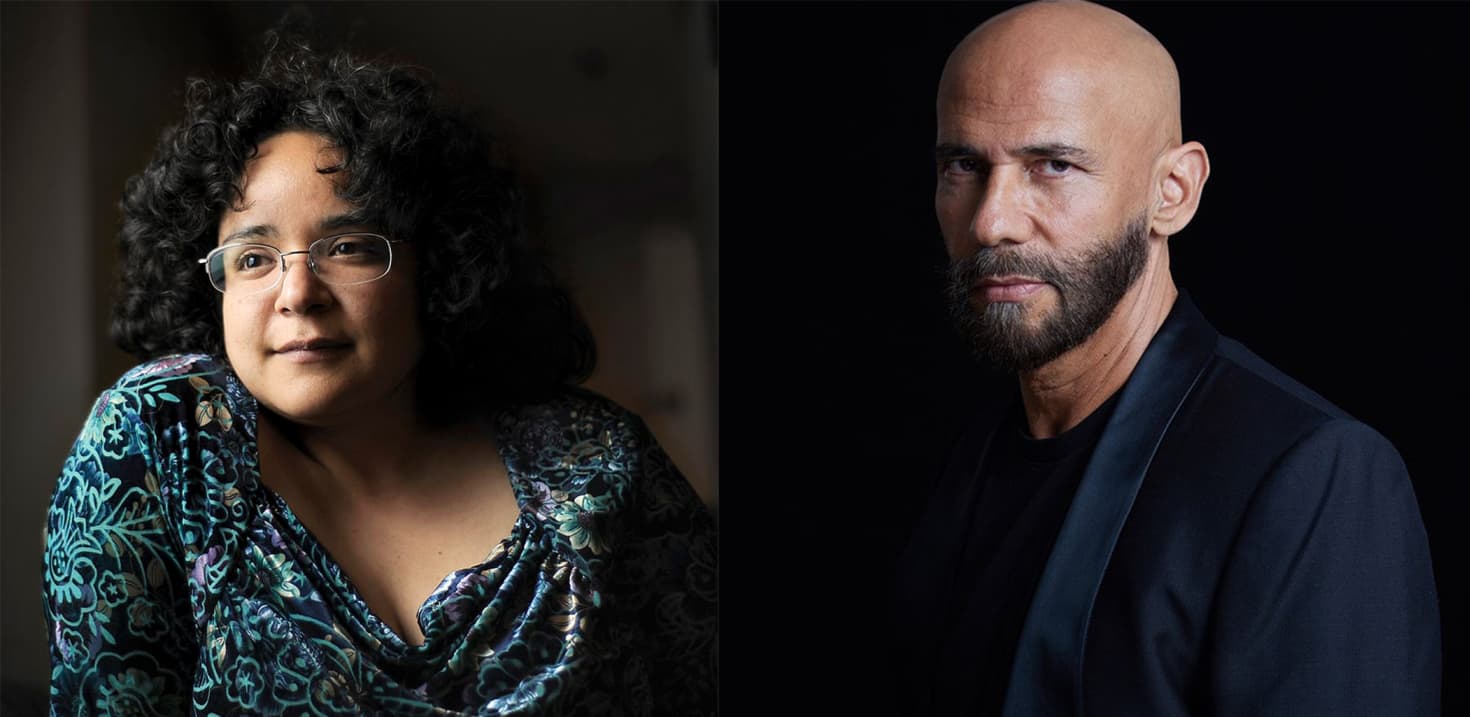 So how did you two
meet
?
GLF: In early 2007, I was approached by a small but very good regional opera company to gauge my interest in writing an opera about Frida Kahlo. And at the time, I think we were all so naive that we thought that I would write the libretto as well, and fortunately, my very good agent over at G. Shirmer, Peggy Monastra, stepped in and said, 'No, no, no, no, no, no, no, no. You naughty little composer. We're going to find you an accomplished and real writer.'
I checked out some of the big names and the Latin American literary canon. But I also read their interviews. I didn't just look at their music, and I was savvy enough to understand that I was really embarking on a relationship with somebody. And so I wanted to get a sense the personhood. I was reading an interview that Nilo had given and some of his work and I loved it. I remember looking at it and I forgot, within a couple pages, that I was looking at a play. It started to read like an opera libretto. And it was very lyrical. And I could hear the music. And the pacing of it was very musical. When the characters came in and when the lines came in, I felt like I was already in a musical landscape and there was room for a partner. Some literature doesn't invite that. It just is whole the way it is.
Peggy reached out to [Nilo's] agent and my people talked to [his] people and they arranged a blind date. I got there first and I recognized Nilo when he walked in, and we had our first conversation over coffee and talked about some of our ideas. And that's what I remember. I remember it was a very simple, low key kind of meeting for me with an artist that would go on to become a really great partner for so much of my work life over the last 13 years.
I had been checking [Nilo] out for weeks beforehand and I remember I played [him] La Llorona. I remember [him] saying, 'This is what we need to do.' And I just knew I'd benefit from the creative imagination of a partner, because he was making connections to things I wouldn't have made myself.
How did you come across Federico García Lorca and what did you find so inspiring about him?
NC: Lorca was a great poet that was assassinated in Spain at the beginning of the Spanish Civil War. And his death was a loss to the world. So, I was very inspired by that loss and wrote a play, this play called Lorca in a Green Dress. So as I'm writing that play, I became very interested in his life and I started an investigation. And so I did a lot of research.
And of course, Lorca was also a playwright and wrote several plays and he also composed some music. So he endeavored into the world of music, as I have done now with Gabriela. And of course, I'm a playwright and I'm also writing poetry. So we have a lot of things in common. So that was the genesis of my of my relationship with Lorca.
Does the reimagining of this work with Irene's choreography change the meaning of the piece for you?
GLF: I wanted to bring in the flavor of Spanish music without being literal to it. I love Spanish music. It has had a profound effect, of course, on Latin American music. My mom's from Peru. A lot of Spanish dances and songs are sung in Peru, but I didn't want to be, as I say, literal. I mean, the world that Nilo often writes for is one that is both familiar and unfamiliar. It's his own type. It's almost an alternative reality, yet is recognizable and not. And so there are gestures in the music that could be flamenco.
I find the music has a regal quality to it and a high passion quality to it, and moments of movement and then moments of stillness. I find flamenco dancers are masters of that movement, and then looking like a beautiful statue with the silhouette being profiled and just held in spaces. So I did that almost not that consciously. It was just the sound that I needed to go to.
NC: Well, you know, it's really interesting because Lorca talks about El Duende, which is the dark spirit that lives in the world of art, and he has a wonderful essay called El Duende in which he talks about a moment in which a dancer enters a dance, but also fuses with the dance.
I wanted to mirror that idea in the work. And so at times, you cannot distinguish the dancer from the dance, or the dancer from the music. Everything comes together and is united. So it makes so much sense to have a flamenco dancer be part of this piece. Flamenco also comes with sound. You know, the stomping of the feet. And so, of course, those are things that I imagine that Gabriela did not compose. But in some ways, they really took the piece to another level.
How have the times we're living in now re-contextualized the piece in your eyes?
NC: It's curious because this piece comes from my play Lorca in a Green Dress, which takes place in 'quarantine.' He is in this place between heaven and Earth for 40 days before he rises to another level. So when I saw the piece, and when Irene came into the mix, I saw her as a soul that is in between two levels of eternity or the afterlife. But at the same time, I saw her as someone fighting her state of being. At times she was Lorca and at others, she was a guiding spirit that was releasing him. So there's this idea of being in quarantine and being stuck.
GLF: I think there's something to be said about political intolerance. That was the backdrop to Lorca's walk of life, and the tragedy of depriving our planet of a gifted mind like this. Especially at a time when we're looking at things like Black Lives Matter and the Me Too movement and how we are not tolerant of people who could contribute so much to our world. And I think I was drawn to that story.
What are you hoping audiences take away from the piece after they watch it?
GLF: Well, goodness, as a composer, you hope there are moments that are just in stone, in their brain. I think with the visual of Irene's work, there's so many striking images and striking sounds that come from it and could stick with you. I think also, the flipside of tragedy is great beauty and hope. And despite the tragedy of this piece, there is the great hope that we will take something away from it to not revisit this type of tragedy, that that these things are within our control. And when the message is told so beautifully with words and dance and hopefully with the music, that audiences feel inspired and larger than themselves. So I hope they take that away.
NC: Yes, I mean, I think that this is a man who couldn't be silenced no matter what. Lorca is one of Spain's greatest writers. Even though he was assassinated, he wasn't silenced. His work, his plays are done everywhere in the world, especially in Latin America and of course, in Spain. His plays are studied in schools. So it's this idea that the word, that writing cannot be silenced.
Is there anything else you'd like to add
?
GLF: I think that what LA Opera is doing with bringing together art and having it premiere through our laptops like this is great. And I have heard so many stories of people saying for the first time, 'I watched a piece of theater because it was on my laptop. I didn't have to go or pay for an expensive ticket to go to a theater.' Even my parents are doing that. They're exploring more art forms and feel captivated to go deeper and to know more stories through art.
You can still watch The Five Moons of Lorca, free of charge, through December 25th.