Family dinner, family movie night, family opera performance?
We're always looking for fun new ways to connect with our families. While it's fun to giggle at (or even create!) a TikTok masterpiece, nothing tops the thrill of live performance. Our Community Opera provides an opportunity for people from all over Los Angeles County to come together and create art. And it's also a way for families to get to know each other even better while they create magic onstage.
Next May, over 400 members of the Los Angeles community will perform The Festival Play of Daniel at the exquisite Cathedral of Our Lady of the Angels in downtown Los Angeles. The production will feature professional opera singers alongside community performers of all ages and experience levels. (Hint, hint, this could be you!) Keep reading to learn how the Community Opera has been a meaningful family experience for past performers.
Sandra Sims and her daughter Tamara had never done anything like this when they joined the cast of Moses, which had its world premiere last March. "I was so nervous at first," Tamara says, "But now I'm getting butterflies. Like happy butterflies." The Community Opera is open to all performers, whether you've sung onstage or just in the shower. "Don't worry if you have the talent," says mom Sandra, "we've got great directors here who have taught us so much."
For Jessica Ross, the Community Opera has been a wonderful way to spend time with her 15 year old daughter, Aurora Henning. Aurora loved being a part of LA Opera's production of Noah's Flood but she felt a "little lonely being dropped off," so her mom decided to join her in the production of Jonah and the Whale. "It's a great bonding experience," Jessica says, "I get choked up seeing her perform." And Aurora, who is also an alumna of Opera Camp is having a fantastic experience. "There are not many places you can go perform with such a diverse range of ages," she says, "and I love that I can share this experience with my mom because it is just so much better with her around."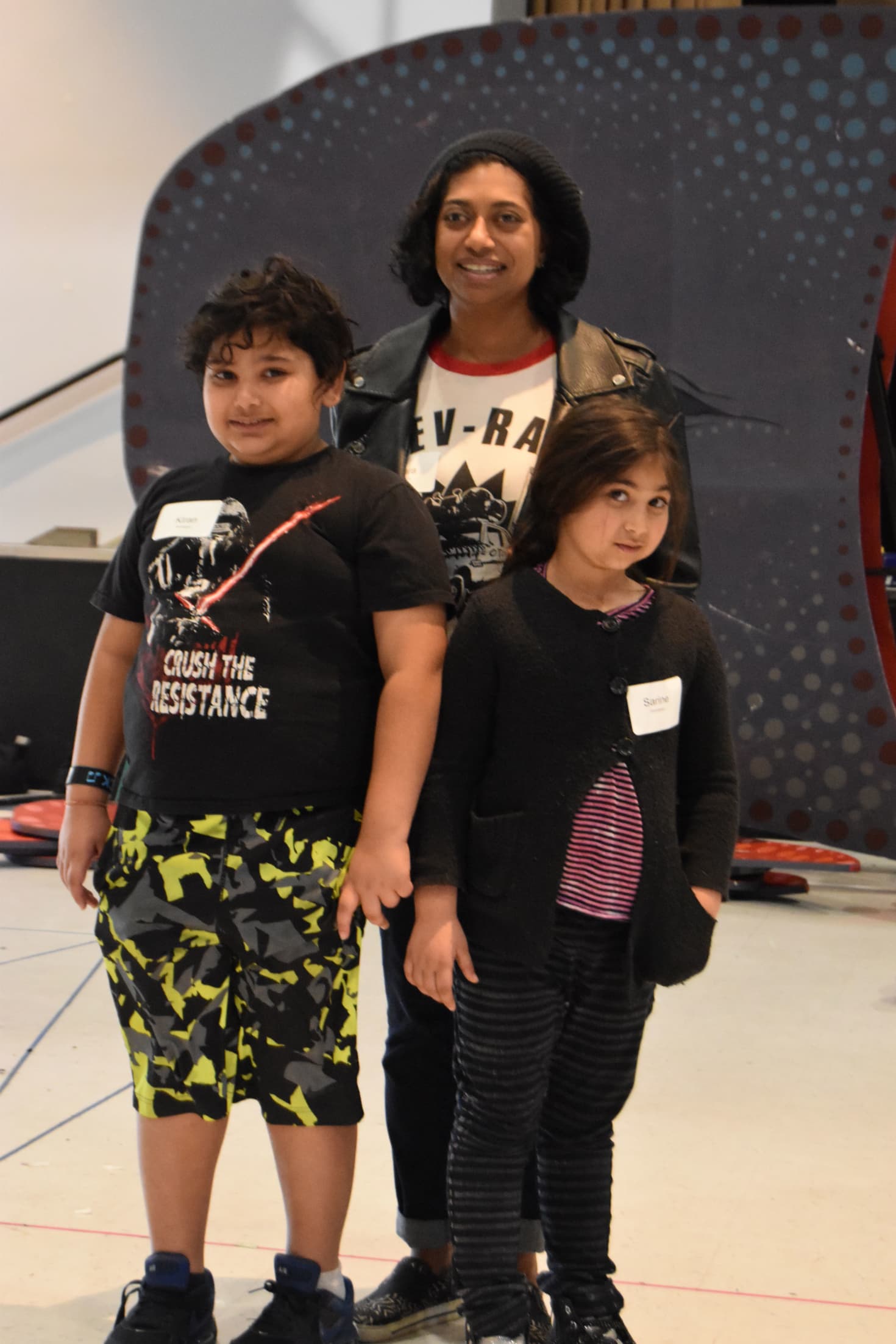 For Sara Acharaya, the Community Opera is an opportunity to share her love of performing with her children. Sara was a resident artist at the Anchorage Opera before moving to Los Angeles. "It's such an amazing opportunity to be in the cast with my children and to share my passion with them." In Jonah and the Whale, her son Keiran played a fish alongside his sister Serena as a krill. And mommy? Whale rib number 4!
Both women were excited and impressed by the patience and care exhibited by the production staff who work with the community performers, especially the kids. "Eli and Heather are just amazing," says Sara, noting that although the kids have varying levels of experience, they all get up to speed with the music and movement quickly. "Eli and the staff are always so kind and professional," says Jessica.
The Community Opera tells magical stories, whether it's whales coming to life onstage, the animals of the ark marching through the Cathedral or fierce lions roaring at Daniel. But the real magic is so many members of our diverse community collaborating to produce a beautiful work of art.