It's time to break out the holiday decorations and stock up on those funny 2020 glasses in preparation for the big ball drop (you know the ones we're talking about). As the year comes to an end, we can't help but reminisce on our ten major moments you might have missed (in no particular order) at LA Opera from the past 365 days.
Ellen Reid winning the 2019 Pulitzer Prize for Music
Barbara Donner winning the Del Hughes Lifetime Achievement Award for Excellence in Stage Management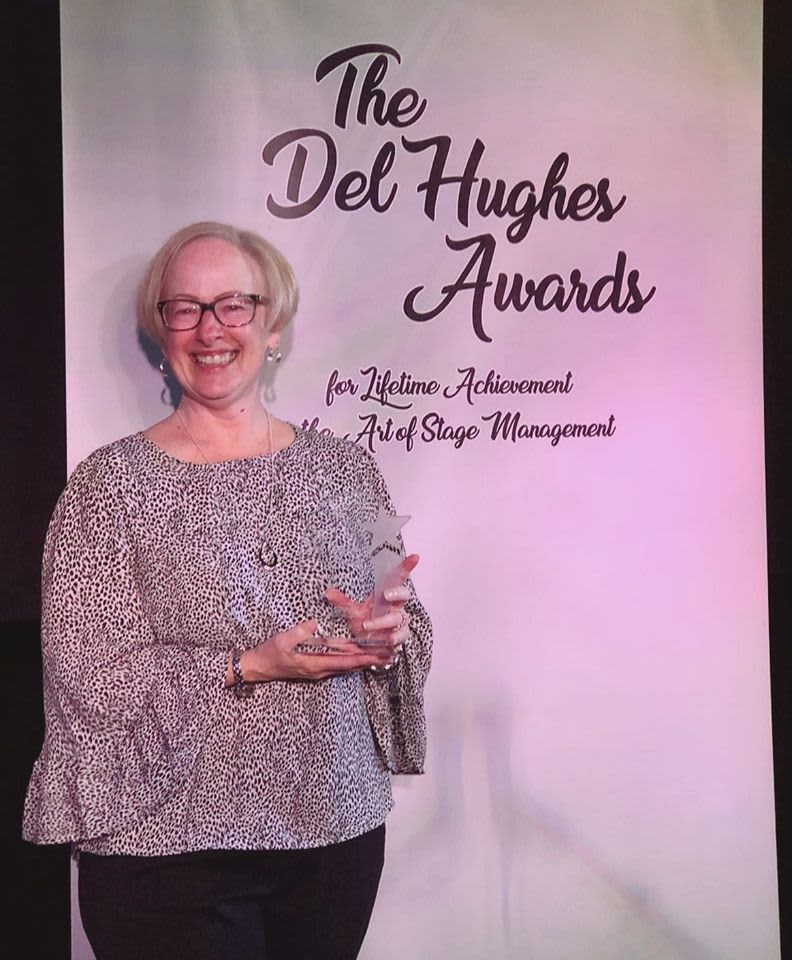 Our stellar stage manager, Barbara Donner, received the Del Hughes Lifetime Achievement Award for Excellence in Stage Management (say that five times fast) this past September. She has a whopping 85 production credits and counting with us. Fun fact: she's also the one cueing the projections in The Magic Flute.
The Turntable in La Bohème
It's no secret that this season's La Bohème was our first new staging of that classic in over 20 years. But what might be news to some is just how much work went into building the turntable used in Café Momus. While Berlin's Komische Oper had one built into their stage already (lucky them), ours had to be specially made to fit our own. We worked with an outside company to digitally print 84 pieces of ¾ inch birch plywood to create our 40-foot turntable. On top of that, it took our crew three whole days to put together the traveling show floor and elevated platform the turntable was on before even starting its installation. Want to see the build in action? Take a look at the video above to see it all come to life.

Bonus: watch this video of our crew breaking down The Light in the Piazza set and building the stage of Javier Camarena's recital in a matter of hours.
Dale Bridges Celebrates 50 years working for The Music Center and LA Opera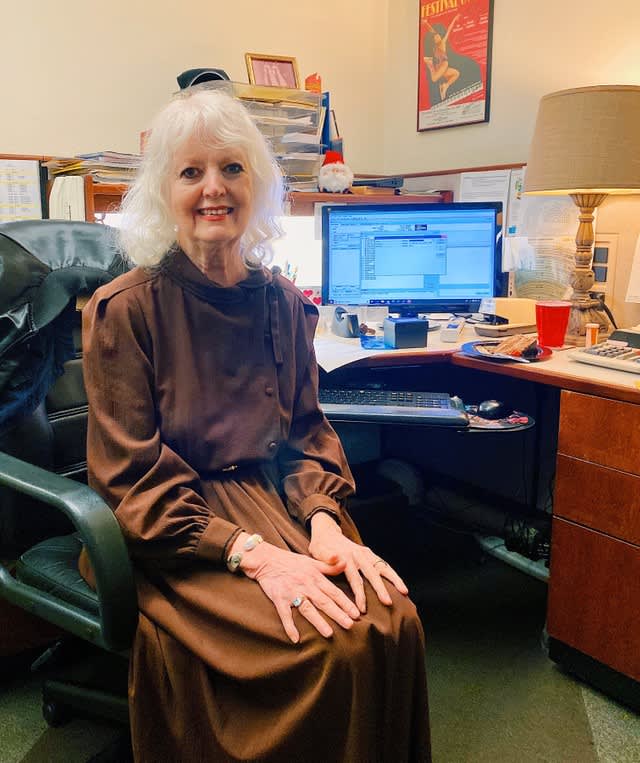 If you've ever called our Box Office, chances are you've spoken to Dale once or twice. Well last month, this lovely lady celebrated 50 (!) combined years of working for The Music Center and LA Opera. That means she's been here since 1969—just five years after the Music Center first opened its doors. We're so lucky to have such a wonderful and dedicated person on our team.
Our 6th Annual Simulcast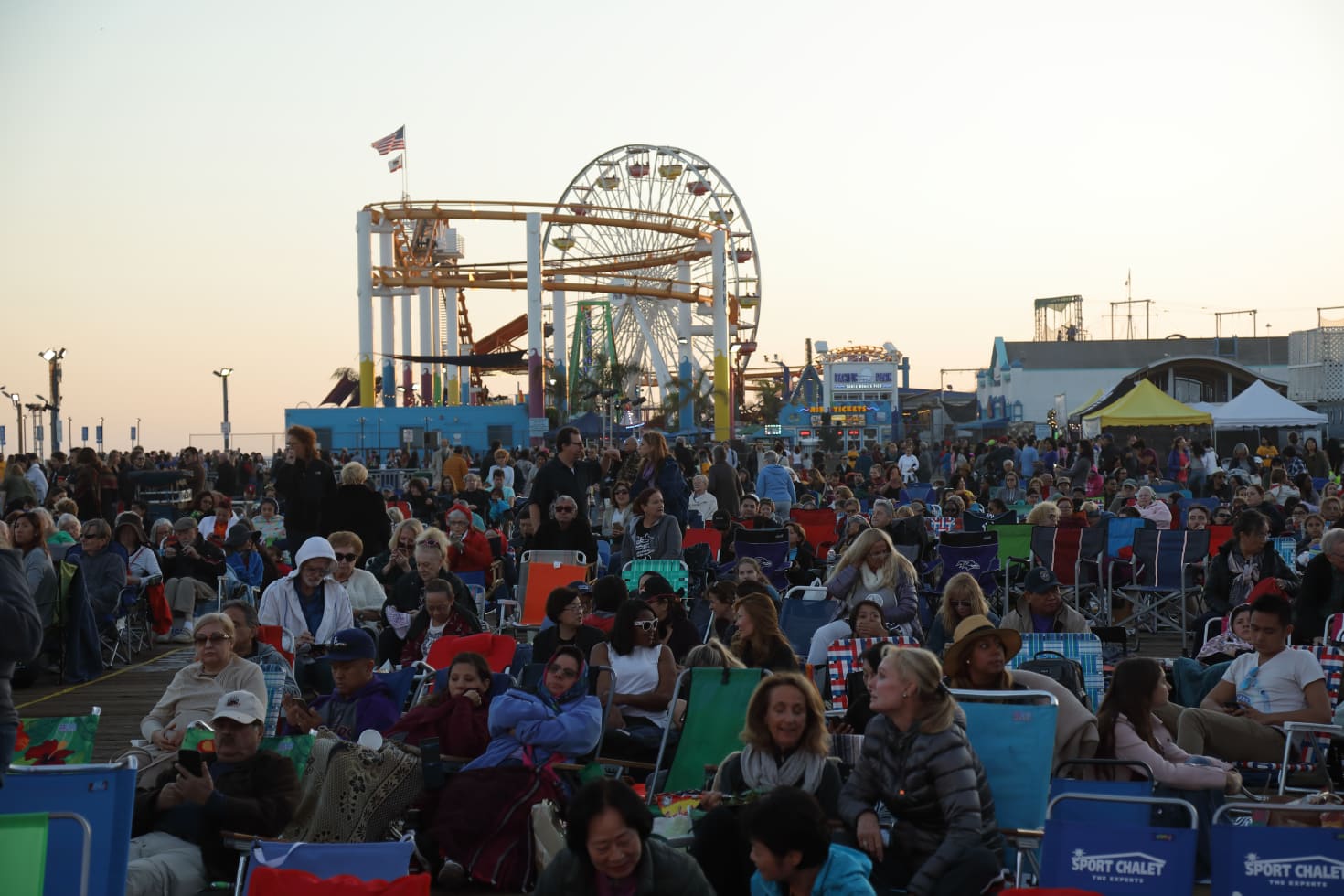 We were fortunate enough to host our annual simulcast for the sixth year in a row. Between the Santa Monica Pier, Torrance's Colombia Regional Park, and the Dorothy Chandler Pavilion, there was a record 7,822 people who watched Maestro James Conlon conduct La Bohème. Pretty cool, right?
LA Opera Connects Receiving the OPERA America Innovation Grant for its Leadership Academy
But what exactly is the Leadership Academy? It's a six-year paid arts internship for students from underrepresented communities. Students work and learn alongside LA Opera professionals in different departments for three months at a time, so that they can deeply understand the issues and practices of each department. This grant allows us to expand our investment in experimentation and innovation and contribute to field-wide learning for those participating in our program.
Victoria Mestas, a current freshman at Los Angeles City College and a member of our Leadership Academy said of the program, "Working at LA Opera has been one of the most exciting things I've gotten to experience so far. At LA Opera, I'm constantly reminded of my love for music and art, all while learning about what it takes to successfully run a non-profit arts organization and obtaining new administrative skills."
Ren

è

e Fleming's Return (and she brought Broadway with her)
We're excited any time Renèe Fleming takes the Dorothy Chandler Pavilion, but we were even more excited that she came back as Margaret Johnson in the Tony Award-winning musical The Light in the Piazza. Even though opera is obviously our favorite thing in the world, we always like to change it up once in a while. The last time Broadway made an appearance on the LA Opera stage was in 2018 with Candide, so we figured who better to spearhead our (very brief) musical movement than the mesmerizing Renèe Fleming? Not to mention the enchanting Dove Cameron and Broadway superstar Brian Stokes Mitchell.
Our Choristers Reaching New Heights
Five longtime chorus members reached some pretty big milestones in the last year. Arthur Wand started at LA Opera in the 1987-88 season and has since performed in 100 (that's right, 100) productions. Reid Bruton, another veteran chorister who started in the 1997-98 season, also reached his 100th performance in the past year. Additionally, he's taken the stage in 18 chorus bit roles, 2 cover roles, and 2 principal roles. Renee Sousa, who also joined the LA Opera family in the 1997-98 season, reached 100 performances with her appearance in La Traviata last season. Not to mention Lori Stinson, who joined the chorus during the 1993-94 season, is halfway there with a total of 50 performances under her belt. And since we're talking about milestones, we can't not mention Aleta Braxton who has been with us since the 1985-86 season. She's since been in 150 (!) productions of ours and is currently the first woman to reach this distinction.
Moses Premiered at Cathedral of Our Lady of the Angels
This operatic world premiere was unlike any other you've ever been to. Nearly 500 people came together and performed with LA Opera's professional singers and chorus members under the baton of Maestro James Conlon. And it all happened at the beautiful Cathedral of Our Lady of the Angels in downtown Los Angeles.
Russell Thomas in The Clemency of Titus
We would be remiss not to mention this outstanding performance from Russell Thomas. Taking the role of the imperiled leader whose generosity and compassion point the way to a brighter future, Thomas wowed audiences and critics alike with his powerful vocals and passionate presence. This new production itself was also something to be proud of. Thaddeus Strassberger's designs and direction brought the show to a whole new level (like that veil of flowers). Anyone else who saw this would most definitely agree.
So, as we wrap up our last two performances of The Magic Flute and prepare for the world premieres and new productions of 2020, we can't thank you enough for being by our side through it all.