This just in: new season lineup has just been announced, and we think you're going to love it as much as we do. From brand new productions to classic favorites, there's something for everyone to be excited about. Not only is next season filled with some pretty incredible shows, 2020/21 also marks our 35th year bringing world-class opera to the city of angels-- so you know it's destined to be extra special.
Don't believe us? Read on to some of the most exciting highlights of our milestone season, and check out our full season lineup here.
1. FIVE NEW PRODUCTIONS
It's been 16 years since we've seen Il Trovatore on our stage, so we're kicking off our 2020/21 season with a fresh take on this beloved piece.
Tannhauser-- which was last seen at the Dorothy Chandler Pavilion in 2007-- returns under the creative reins of director Louisa Muller who will bring new life into this exciting revival.
Ever want to know what one of opera's most notorious anti-heroes (aka Don Juan) was thinking during his fiendish antics? Well, now you can. This production of Don Giovanni cleverly reveals the characters' inner thoughts and emotions.
You've waited 15 years for Aida to come back to LAO, so you know we had to stage it in style. This production features designs by LA street artist RETNA, with graffiti presented as ancient Egyptian hieroglyphics.
And to round out all this newness, Missy Mazzoli's Breaking the Waves takes the Dorothy Chandler Pavilion in February 2020.
AND DID WE MENTION BREAKING THE WAVES IS A COMPANY PREMIERE?
It's true. This modern production has earned recognition as one of the most powerful operas of our time and is based on the 1996 film of the same name.
2. OLD FAVORITES
Il Trovatore marks more than just our season opening. It will be James Conlon's 415th show he's conducted at LA Opera to date (with many more to come). Our Richard Seaver Music Director is set to conduct four out of six of our main stage productions, plus our matinee concert Brightness of Light and our annual performances of Britten's Noah's Flood (a free opera for the community). And don't forget about his pre-performance talks in Stern Grand Hall.
4. MAKING THEIR WAY OFF GRAND
SPEAKING OF A MAINSTAGE DEBUT...
Missy Mazzoli will be the second female composer to have her work featured on our mainstage. Are you as excited as we are?
5. CELEBRATING DIVERSITY
This year, we have 12 artists of color taking on leading roles in our mainstage productions. Angel Blue kicks off the season as Leonora in Il Trovatore, with Raehann Bryce-Davis as Azucena on October 15th and 18th. Issachah Savage takes on the title role in Tannhauser, and Levy Sekgapane sings Don Ramiro in Cinderella. Don Giovanni has an incredibly diverse cast: Ana Maria Martinez sings Donna Elvira, Janai Brugger is Zerlina, Will Liverman plays Leporello, Morris Robinson takes on the role of Commendatore (and is also Ferrando in Il Trovatore), and Kihun Yoon returns as Masetto. Frederick Ballentine (everyone's favorite Monostatos) sings Dr. Richardson in Breaking the Waves. To close out the season, Eric Owens takes the stage as Ramfis in Aida, alongside Kevin Short as the King of Egypt.
6. "GET OUT" OF THE DOROTHY CHANDLER AND INTO THE THEATRE AT ACE HOTEL
7. FOR THE KIDS
We said there was something for everyone, and we mean everyone. As always, expect a ton of treats and fun activities during Cinderella's family day. But we're taking it to a whole new level with BambinO, an opera made specifically for babies. Yes, babies.
8. ONE NIGHT ONLY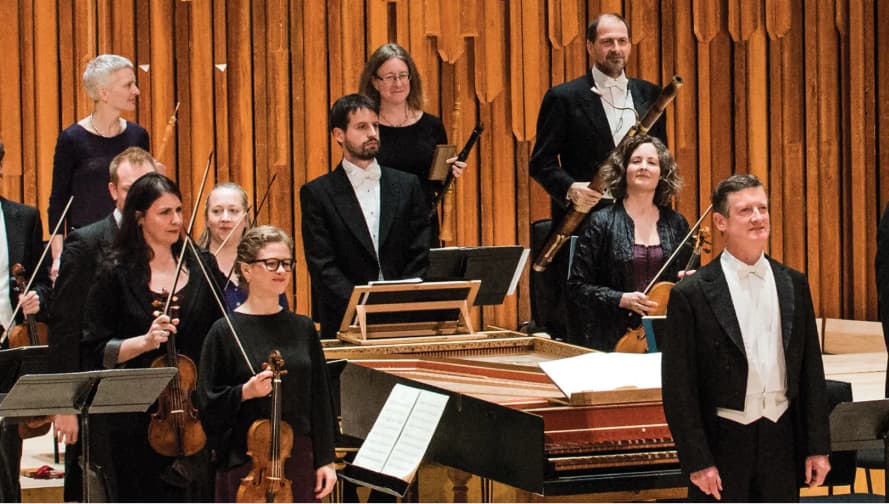 Our concerts for the 2020/21 seasons are stacked. Renee Fleming and Rod Gilfry are set to stun in Brightness of Light under the baton of our very own James Conlon. Did you know this work was actually based on the letters of artist Georgia O'Keeffe and her husband Alfred Stieglitz? Plus, baroque jewel, Tamerlano, is sure to be a crowd pleaser. Keep your eye (and ears) out for conductor Harry Bicket's period instrument orchestra. But what's so special about period instruments? Well… a lot. They turn back the clock on instrumental evolution. Period instruments are constructed the same as they were when the composer in question wrote their work. So baroque violins use different strings, have a shorter bridge, and are played with a shorter bow. Pretty cool, right?
So with all of that goodness, there's no reason not to find something to love about the new season. Want to know more about it? Click here for all the details on our 2020/21 lineup.