Any performer will tell you that a show is nothing without its stage managers. It just so happens that we have an amazing team of women calling the shots backstage at (almost) every show. So in honor of International Women's Day, we wanted to give four of them-- Nikki Hyde, Barbara Donner, Erin Thompson, and Lisa Kable-- center stage for a change and hear all about what inspired them to get into the opera biz.
Not sure what a stage manager does? Well, a little bit of everything. They're around for those first production meetings (which can start a year before it even opens), late night rehearsals, and from opening to closing night. Most importantly though, they call all the cues to let cast and crew know what they're doing and when. Think of them as a communication hub for everything behind-the-scenes.
Now that that's covered, let's give our fab four the floor.
When did you realize you wanted to be a Stage Manager?
[Erin Thompson]: When I was 9 years old I stepped on a stage for the first time and I looked up at my mom and I said, "I want to be doing this for the rest of my life." And so at 9 I started acting. I ended up in a fine arts high school. My focus on stage management actually happened in high school, and I started doing summer stock programs. The rest is kind of history, so I've been doing this for a very long time. I've been with LA Opera since 2011.
[Barbara Donner]: I fell into it completely by accident. I was a music major in college and my best friend's father happened to run the Cincinnati Opera, and she had been working as an Assistant Stage Manager for years. I was at summer school when the season was going on, and she called me and said, "We just had one of our supers drop out. Do you want to come down and be in the show?" So I went down and I was only in the first act of the opera, so I hung out with her the rest of the time backstage and I was like "Wow, this is really cool back here" and it seemed like something I'd love to do. So, I was lucky enough to be able to start doing it as an intern. I started with LA Opera in 1990, so I've been here for a long time.
[Lisa Kable]: I grew up around theaters. I started supering with the New York Gilbert and Sullivan Players when I was 8, and I grew up in the wings. I was never in the dressing rooms, just sitting in the wings watching what was happening on stage. Then I think I was 16, that same company asked if I wanted to assistant stage manage a show, and then the director of that company also worked with the New York Grand Opera in the summers and asked if I wanted to come with him. I liked being in theaters, and I liked theater people, and I liked doing all the things. So, I actually went and got a degree in vocal music. I have a Masters from USC and I sang for a while and did Young Artist-y things and then thought, 'You know, I hate this. This really sucks.' It's a lot to have to put yourself out there all the time, so I just decided preforming wasn't for me. But the cool thing is, that experience made me better at my job now because I know what these singers are going through.
[Nikki Hyde]: I think we all came from a performance background. And for me, I was probably never that good. But theater was a habit that I could never quit. After I realized performing wasn't my trajectory, I had to find something else to do. And I remember I got a few opportunities to stage manage just so I could be part of a show or process, and I really fell in love with it.
What is it like to work on this team?
[Barbara Donner]: It's amazing to work on this team. What's interesting for me is I spent my entire career both Stage Managing and Assistant Stage Managing, as a great number of people on this staff do. And I think that's what makes us such a great team-- we do all the jobs, so we're used to working with each other in different capacities. So, I think that's what really makes us trust each other and be able to really depend on the person and what they're dealing with at any given show.
[Nikki Hyde]: It's been great. When I first worked here, I remember walking in and another show was already in rehearsal, so there was this group of people I wasn't going to be working with directly, but they were always going to be around. And then I had my team who I was going to be working with. I was immediately enveloped into the whole group. Everyone was so welcoming and warm, and it very much felt like a family. This table we're sitting at has very much become the dinner table for all of us together. Being able to work now with every single person on this team in different capacities, to when I got promoted to call my first show last season. It's just a wonderful family.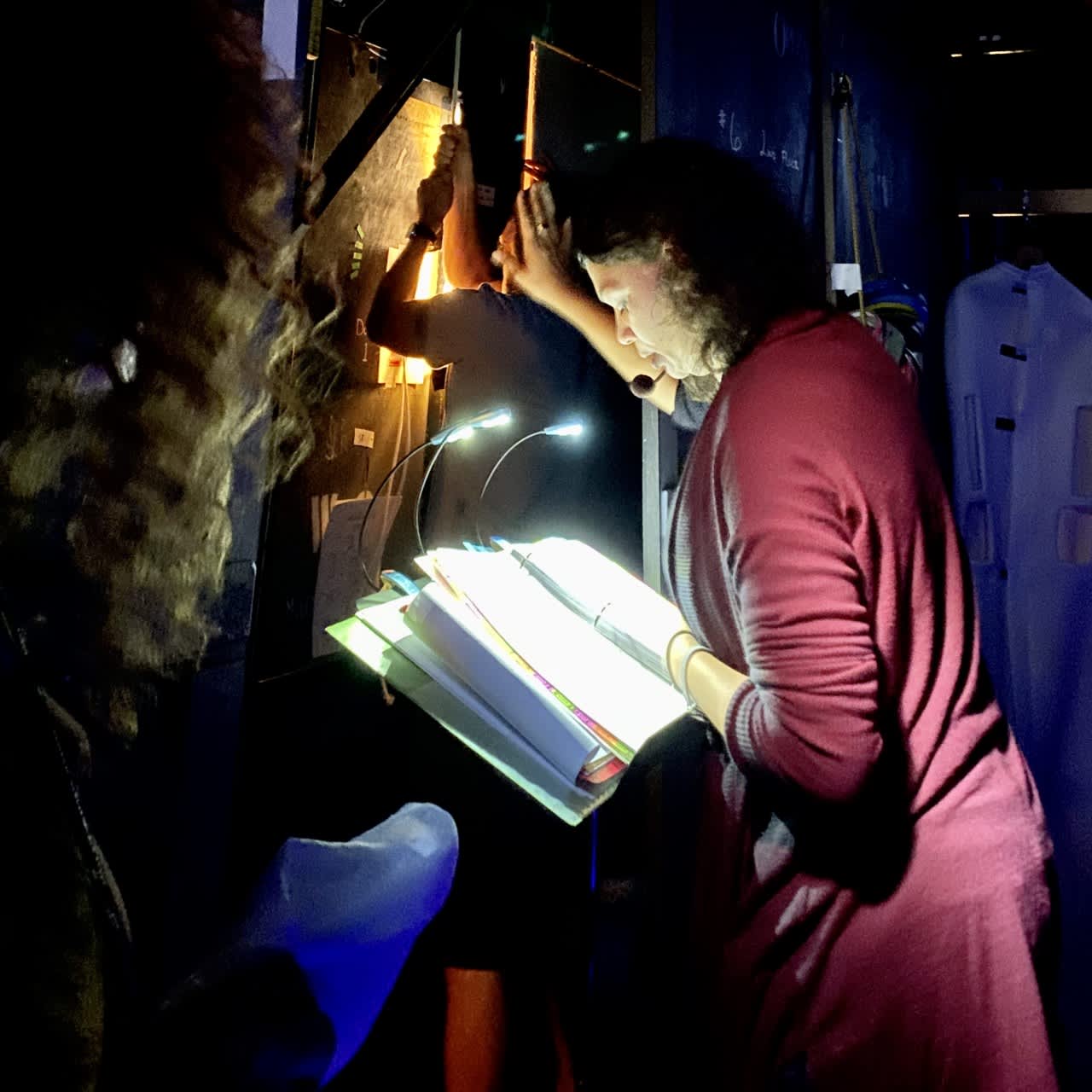 If you could give your past self a piece of career advice what would it be?
[Lisa Kable]: Trust yourself. You know yourself; you know what you're good at and you should believe that if you just put yourself forward it'll happen. Don't be scared, just go for it.
[Nikki Hyde]: I always say I would've advised myself to take things a little less seriously. When you're first starting out, you're trying to prove yourself and I gave myself a lot of stomach aches that were probably unnecessary. I take my work very seriously; I have a lot of pride in it. But you can take that almost too far. Like we didn't get into theater and performance to take ourselves too seriously all the time. It's called play for a reason.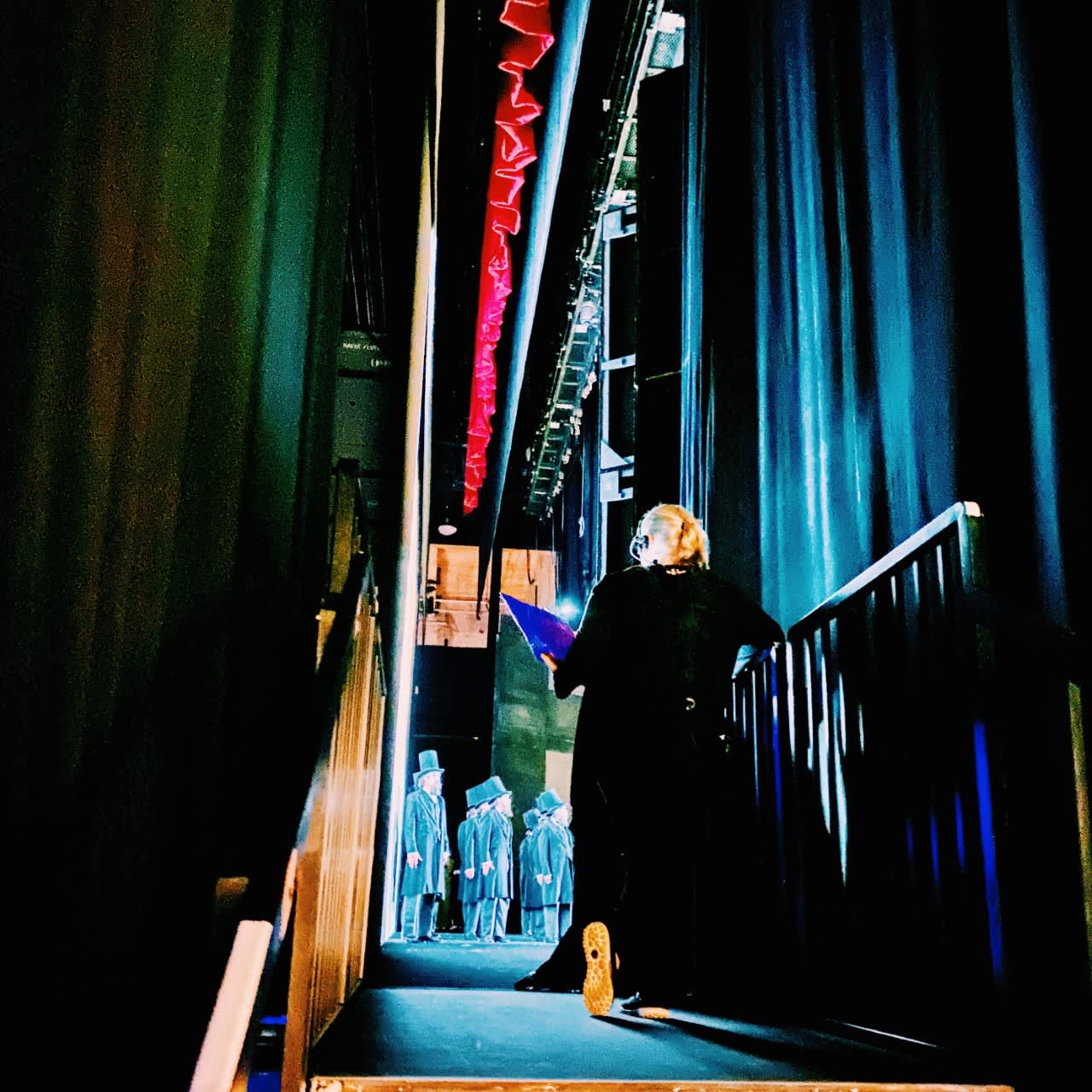 What are some of your favorite performances by female artists?
[Erin Thompson]: Women are so cool. We do so many amazing things. I do have to say I was totally in it to win it for the Superbowl performance with J-Lo and Shakira. I was all there for them with that. I do have to say Angela Meade is amazing, and I think Maestro Kim is incredible and she's setting a great example for women in this position.
[Lisa Kable]: My husband raised an eyebrow at me this morning when he walked in and I was watching a Lizzo video. I needed a badass woman in my life, so I went to good 'ole Lizzo. But there are so many women though. It's been an absolute joy to work with Maestro Kim on this production and I hope she can come back to us soon.